Our Home Building Process
Our team aspires to make the journey enjoyable for you as we design & build your dream residence. Rooted in fostering trust with our esteemed clients, our commitment ensures a seamless and efficient process that unfolds with minimal stress.
Before diving into creating a concept for your home, a budget is explored and established. Everyone has a limit, and we want to ensure all aspects of your budget are considered.
After working together to establish your vision and budget, we transform your dream into a tangible design. Our architectural experts work in tandem with you to finalize all design elements – ensuring that every detail reflects your taste and preferences.
3. Legalities and Permitting
As your trusted design and construction partner, our team handles all the necessary building permits, providing you with a hassle-free experience. Each plan is professionally reviewed for 100% Energy Star Certification, ensuring your new home is energy efficient.
4. Interior Finish Selections
During this phase we help you choose and select the finishes that make your home unique and personalized. It is this phase that is especially exciting because the details are what makes your home special and unique.
The next step involves the financial aspect of your project. Our team provides a clear, detailed cost estimation that aligns with your budget. We strategize with you to help you make design choices that enable you to stay within your budget.
The most exciting phase of the project is finally here! Your construction journey starts now. 
7. Final Walkthrough & Punch List
To ensure that your new custom home meets your total satisfaction, a final walkthrough is conducted. Every detail is carefully examined, and a punch list is created to deliver a flawless home.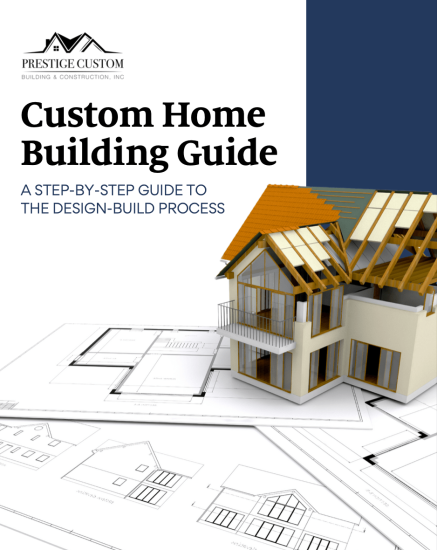 Download our Free Home Building Process Guide Now!
Unlock the step-by-step full process for crafting your dream home with our comprehensive guide. From concept to reality, this guide takes you through every detail to expect. 
Don't miss out – grab your guide today and embark on a journey of building excellence, one step at a time.